September 1 -- Rishikesh
A team of doctors came from Bombay - from the Hinduja Hospital and other hospitals -- on their way to Badrinath for a medical camp in Badrinath.
While they stopped in Rishikesh they had a medical camp here at Parmarth Niketan. Testing, diagnosis, treatment and eye operations were performed for local, poor, ailing people.
To give the gift of health to someone who otherwise could not afford it is a great, divine seva. We invite all doctors, in all fields, to spend some of their holiday time here in the Himalayas offering their expertise and experience in the service of the needy people. Please email to alka@parmarth.com if you are interested in coming to serve.
September 1-6-- Rishikesh
A free Acupressure Camp was held by 6 accomplished acupressure doctors led by Dr. K.C. Jain from Rajasthan. A total of 473 patients were treated for a wide variety of ailments.
September 2-5 -- Rishikesh
A group of 25 students from across the world came to Parmarth Niketan for 3 days as part of their government-organized trip to India. The students -- many of whom had never been to India -- were so touched and inspired during their time at Parmarth that they never wanted to leave. Their days were filled with yoga, meditation, adventures, inspiring and uplifting satsang with Pujya Swamiji, and of course divine Ganga Aarti each evening. One student exclaimed, "Mecca is the place that all Muslims should visit. Rishikesh is the place that all Hindus should visit!"
The NRI students from across the world perform Ganga Aarti and pray on the holy banks of Mother Ganga; joyful, they gather with Pujya Swamiji for a group photo
Although they are students at some of the world's best institutions, their questions of the heart and soul had never been answered. It was a rare and special opportunity for them to sit with Pujya Swamiji and ask a variety of questions ranging from issues of daily life to puja, rites and rituals to theories of karma and reincarnation to so many other aspects of life.

Click here to read the comments of the students!
September 6-- New Delhi
MINORITIES COMMISSION MEETING ON HINDU-MUSLIM UNITY
Pujya Swamiji was called as a leader at the Inter-Community Dialogue in which the National Commission for Minorities (led by Shri Tarlochan Singhji) called Muslim and Hindu leaders together to work on bringing peace, harmony and understanding between the two religions in India.
The meeting was a great success as all the leaders expressed their eagerness to work for peace and inter-faith harmony.
Other prominent leaders at the meeting included Sri Sri Ravi Shankar, Maulanna Wahiduddin Khan Sahib, Maulanna Dr. S. Kalbe Sadiq and many more. Click here for the full list of attendees.
left to right:
Maulanna Dr. S. Kalbe Sadiq, Shri Tarlochan Singh (Chairman, Minorities Commission), Pujya Swamiji,
Sri Sri Ravi Shankar, Maulanna Wahiduddin Khan Sahib

(photo courtesy Shri Tarun Vijay of Panchjanya)
Pujya Swamiji, Sri Sri Ravi Shankar, Maulanna Wahiduddin Khan Sahib and other Hindu and Muslim leaders sit together in the Inter-Community Dialogue led by Shri Tarlochan Singh, chairman of the Minorities Commission
Click here to read more about this great meeting (In Hindi).
September 8-- Jaipur

Pujya Swamiji spent September 8 in Jaipur. While there He went to visit the beautiful gaushala run on the outskirts of Jaipur by Pujya Asharam Bapu. We are opening large scale gaushalas in the Himalayan region of Uttranchal in conjunction with a special program that will get Mother Cow off of the roads and give her a safe haven in which to live. The program will also focus on scientific research of the medicinal use of cow dung and cow urine.

Pujya Swamiji was also the guest of honor with His Excellency Shri Sudarshan Agarwalji, the Honorable Governor of Uttranchal, at the wedding of Aparna Bhatnagar

Pujya Swamiji and His Excellency the Governor present a huge flower mala
and a special picture of Radha-Krishna to the Newlyweds

September 9-- Delhi

On the way back to Rishikesh after Jaipur, His Excellency the Governor of Uttranchal took Pujya Swamiji to see the Blood Bank in Delhi which he had conceived and erected over a 5 year time span. Pujya Swamiji was so impressed to listen to the Honorable Governor explain how, every day for 5 years, he would come to the site of the construction and oversee it all personally.

The Blood Bank was immaculate and filled with the most modern, scientific machines for screening, separating and preserving blood and platelets.

Pujya Swamiji expressed effusive appreciation for the Honorable Governor and the entire team at the Blood Bank.

September 20-22-- Rishikesh

Pujya Sant Shri Rameshbhai Oza (Pujya Bhaishri) came to Parmarth Niketan to be with the family of Shri Tulsibhai Hathi who recently passed away in Porbandar. Shri Tulsibhai was not only a truly devoted soul but he was also the one who extended great support, dedication and help to Pujya Bhaishri in the very early days of the establishment of Sandipani Vidya Niketan.

While at Parmarth, Pujya Bhaishri also visited the Veerpur Gurukul.


Pujya Swamiji and Pujya Bhaishri do pranam to Mother Ganga



Family of Shri Tulsibhai Hathi performs ash immersion puja on the banks of Ganga.
Pujya Swamiji and Pujya Bhaishri sit on the banks of Ganga
All of the rishikumars along with Pujya Swamiji and Pujya Bhaishri took Ganga snan!
Pujya Swamiji and Pujya Bhaishri walk through the Bhandara hall and talk on the rooftop
Pujya Bhaishri was in Rishikesh during the time of Shraadh and performed shraadh puja in memory of his father.
| | | |
| --- | --- | --- |
| | Pujya Swamiji shows Pujya Bhaishri the Veerpur land | |
Pujya Swamiji takes Pujya Bhaishri and the Hathi family to Veerpur where they have a tree plantation ceremony and offer new clothing to the rishikumars at the Parmarth Veerpur Gurukul.
September 22 -- Haridwar
Pujya Swamiji traveled to Haridwar on the 22 September for several functions. First, he and Pujya Bhaishri met with Pujya Swami Satyamitranandji and Pujya Brahmachari Brahmaswarupji.
Pujya Swamiji and Pujya Bhaishri with (left) Pujya Swami Satyamitranandgiriji and (right) Pujya Brahmachari Brahmaswarupji
Then, he was a guest of honor at the degree-conferring ceremony at the Gurukul Kangri University of Haridwar, along with His Excellency the Lt. Governor of Pondicherry, Honorable Shri M.M. Lakheraji and the revered Ayurvedic specialist Padmashree Shri Devendra Trigunaji
The Honorary Guests at the function included Pujya Swamiji, His Excellency Shri M.M. Lakheraji the Lt. Governor of Pondicherry, Padmashree Shri Devendra Trigunaji, and other dignitaries.
The honored guests perform a sacred yagna ceremony together.
September 22 -- Rishikesh
Following the program in Haridwar, the Honorable Lt. Governor came to Parmarth Niketan where he performed divine Ganga Aarti. After the Aarti on the banks of Mother Ganga he gave a beautiful talk about the importance of service. He appreciated Pujya Swamiji for his service to all of mankind and he emphasized how much divine seva Pujya Swamiji is doing down in the tsunami affected areas in Pondicherry.
Padmashree Shri Devendra Trigunaji came for the aarti as well and expressed his support and assistance for the Ayurvedic projects.
Clockwise from right: Pujya Swamiji blesses Honorable Shri Lakheraji, Hon. Shri Lakheraji speaks after the Aarti, the Divine Ganga Aarti ceremony.

Also, we began a new series of yoga courses on the 19 September - a teacher's training course, an intensive course, a beginners' course and a stress-management course. His Excellency Shri Lakheraji officially inaugurated the courses along with the 50 students from all over the world. Further, we had a yoga competition among the rishikumars at the Parmarth Gurukul. The Honorable Lt. Governor distributed the medals and the trophy. However, it was impossible to judge who the winner was, as all of the rishikumars were such good yogis! Therefore the trophy was given to all of the participants together.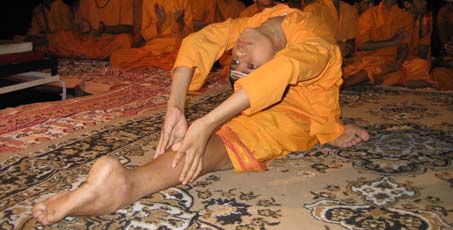 INTERNATIONAL YOGA FESTIVAL
MARCH 1-7, 2006
This year's highlights will include:
1. Inspiring lectures by revered saints
2. KUNDALINI YOGA taught by world famous Gurmukh Kaur Khalsa of Golden Bridge Yoga, Hollywood, California, USA

. Gurmukh is one of the world's most renowned Kundalini Yoga teachers and is one of the highlights of every year's Festival.

4. Yoga Nidra and NADA YOGA
5. meditation
5. Reiki courses and treatment
6. POWER YOGA AND PRANAYAMA
7. YOGA THERAPY
8
.
pRANIC HEALING
9
.
lectures on the connection between mind-body
10
.
cultural song-dance programs musical performances
Experience the Evening divine Ganga Aarti Set to devotional music, this special light ceremony in the evening, called 'Aarti' is sure to stir your soul and touch your heart regardless, of your religious or cultural background (click here for more information about this beautiful ceremony)
CLICK HERE TO SEE DETAILS OF YOGA FESTIVAL 2005
For assistance in booking plane tickets, hotel arrangements,
tours or transport to Rishikesh,
please contact Neeraj Gupta at gupta_ng_in@hotmail.com
or by phone on +91-9811111044
RETREAT WITH ANDREW COHEN - DECEMBER 8 - 16
| | |
| --- | --- |
| | Andrew Cohen's Evolutionary Enlightenment is an entirely new spiritual teaching for life in the 21st century. Explore the miraculous depths of enlightened consciousness firsthand through an intensive week-long program of meditation, discourse, and collective inquiry. Discover for yourself what it means to participate in the evolution of consciousness, a process that began 14 billion years ago when the cosmos was born. |
Andrew Cohen is an American spiritual teacher widely recognized for his original contribution to the emerging field of evolutionary spirituality. His most recent book is Living Enlightenment: A Call for Evolution Beyond Ego

For more information:
Email: info.rishikesh@enlightennext.org
Tel: 0135 2436 303
www.andrewcohen.org/retreats
FILM ON PUJYA SWAMIJI & HIS TEACHINGS:
On April 17, 2004 at the Arclight Theater in Hollywood, USA a film on the life and teachings of Pujya Swamiji premiered to a sold out audience. The film, titled, "A Day in the Light" is produced and directed by Christopher Miglino.

The film has already been shown to delighted and inspired audiences at the Sedona Film Festival, the Indian Film Festival in Los Angeles and several other film festivals in USA and Europe.

See www.adayinthelight.com to order your own copy of the beautiful film. Or, you can go directly to www.amazon.com and order it from there

For more information, email Christopher directly at chris@yogamates.com

Click on the links below for previews:
| | | |
| --- | --- | --- |
| | | |
| | Bathing in Ganga at Parmarth | |
Itinerary for Pujya Swamiji
for October - December 2005
October
November
December
1-6
Himalayan Yatra
1
Rishikesh
5-14
Rishikesh
7-10
Rishikesh
2-8
Delhi
15-16
Tsunami Affected Areas
11
Delhi
9
London
17-31
Rishikesh
12-14
Bombay -Porbandar
11-13
Miami, Florida
15
Bombay
14
Tampa, Florida
17-31
Rishikesh
20
Phoenix, AZ

Email contact for program information: parmarth@aol.com

*Note: Pujya Swamiji's schedule is always subject to change at the last minute. Please be sure to call or email prior to coming to Rishikesh, just to confirm that He is there.