March 10-11-- Rishikesh:
HOLI. This beautiful festival of colors was celebrated with great gaiety, in the holy presence of His Holiness Pujya Swami Chidanand Saraswatiji (Muniji) and His Holiness Acharya Shri Shrikant Vyasji. Pujya Swamiji gave a beautiful lecture, inspiring everyone to change "not only the color of our skin, but also the color of our hearts" and not only to "eat sweets but to also become sweet." He spoke about how we always chant "Holi I! Holi I!" but that we should focus on having a "holy eye," an eye which can see the divine in all.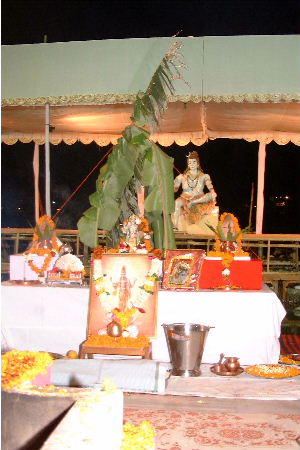 March 11 - Rishikesh
Dr. Ravi Kasliwal, Senior Consultant Cardiologist, Escorts Heart Institute New Delhi came to Parmarth Niketan with his divine wife and daughter, Rachna. Each year Dr. Kasliwal comes several times with the Escorts team and conducts free heart camps at Parmarth Niketan. This time, his wonderful daughter, who is also a doctor, assisted her father.


March 12-18 - Rishikesh
Shrimad Bhagwat Katha. The land of Rishikesh became a true "Swarg-Ashram [heavenly abode]". In the lap of the sacred Himalayas, on the holy banks of Mother Ganga, Parmarth Niketan Ashram became a land filled with inspiration, wisdom and divinity.

A beautiful Shrimad Bhagwat Katha was delivered by His Holiness Pujya Sri Shankarcharyaji Divyanand Teerthji Maharaj, sponsored by Dr. Chandrakantbhai-- Dr. Taranginiben Patel, Shri Maheshbhai--Smt. Sarojben Patel, Ms. Rosha Patel, Shri Kiranbhai -- Smt. Romaben Patel, and Dr. Ramanbhai -- Smt. Shakuntalaben Patel.

This was one of the rare occasions in which the divine word of the Bhagwat katha was recited by a Shankaracharyaji. The Bhagwat katha is holy, sacred and timeless. However, to have it rendered and explained by someone of the highest post in Hinduism was a true chance of a life-time.

Additionally, this glorious occasion was graced by the presence of so many other revered saints.
However, there was more than Katha. It was a week full of spirituality, of devotion and of prayer. We had special Shiv Abhishek and yagna each day, in addition to special satsang and puja.

March 14-16 - Rishikesh
Nineteen students and six teachers/chaperones traveled from Princeton Day School, New Jersey, USA to the holy banks of Mother Ganga to learn about the ancient secrets of Indian tradition. Under the leadership of teacher Dave Freedholm, the group of young high school students came to experience, to see, to live and to breathe the glory of the Himalayas. The students took part in a special lecture session with His Holiness Sri Shankaracharyaji, in a special question-answer session with His Holiness Pujya Swami Chidanandji (Muniji), in jungle walks, in school programs and in so much more.
| | |
| --- | --- |
| | The dedicated children had worked with great tenacity to raise money for the Youth Education Services project. So, upon arrival, they humbly offered their donation - as well as their love, friendship and commitment - to their brothers and sisters of India. |
| | |
March 16 - Veerpur (Himalayas)
We are already running a gurukul/orphanage where 100 young rishikumars are learning not only the ancient science of the Vedas, but where their lives are also being infused with essential sanskaras, values and ethics. We give great thanks to Late Shri Prem Kumar Goyalji and other donors for making this gurukul/orphanage a reality.

By Pujya Swamiji's grace, these children are taken in to Parmarth's orphanage where they receive not only shelter and nourishment, but they also receive the priceless gifts of hope, faith, tenderness and care.

Additionally, we recently acquired a new piece of land, on the serene banks of Mother Ganga where we will build a new, second gurukul/orphanage to be sponsored in large part by Divine Soul Late Shri Prem Kumar Goyalji.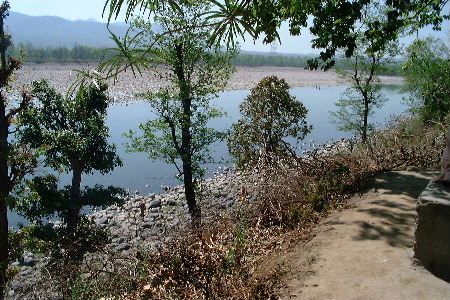 In the holy presence of His Holiness Sri Shankaracharyaji Maharaj, we had the Bhoomi Puja for the new gurukul/ orphanage.

The gurukul/orphanage will be home to boys from poor, disadvantaged backgrounds and will give them a chance to learn, to grow and to become divine, cultural ambassadors!

We have also applied to the Government of Gujarat that we are willing to take in as many orphans from the Earthquake into our new orphanage. However, the government of Gujarat has said that they - for official, legal reasons - must wait another few months before they can release children to orphanages out of the state.

It will take that much time for the gurukul/orphanage to be constructed anyway.
March 18: Rishikesh
His Excellency Shri Nityanand Swamiji, Chief Minister of Uttranchal (the newly formed Himalayan state in which Rishikesh lies - previously part of Uttar Pradesh) came to Parmarth Niketan. He was joined by Finance Minister Shri Ramesh Pokharial and Shri Narendra Mohan, owner of the nationally acclaimed newspaper Dainik Jagran. At the hands of the Honorable Chief Minister, Parmarth inaugurated its new Ayurvedic Clinic and Research Centre. Although the ancient science of Ayurveda is alive and thriving in Himalayas, there are so many people who could be benefitting from this great wisdom. Therefore, Pujya Swamiji decided that there should be a centre not only to treat those who come, but also where research can be conducted on how best to disseminate this rich, complex science to the world.
| | |
| --- | --- |
| | |
| | |
March 24: Manipuri
On the final day of a glorious katha delivered by His Holiness Acharya Shri Shrikant Vyasji, Pujya Swamiji traveled to Manipuri to give the final, closing, inspirational pravachan. The crowd of over 10,000 people sat in awe, in pin drop silence, as Pujya Swamiji spoke.

YATRA ABROAD
March 28: Hollywood, California, USA
Pujya Swamiji returned to Hollywood where - after the great success of His program there in July - He was begged to give another uplifting, inspiring and divine lecture. The audience again was entirely Western - no Hindi, Sanskrit, Indian blood or knowledge of the Vedas is required to be touched and transformed by Pujya Swamiji's message.

This glorious program was organized by Divine Soul Gurmukh of the Golden Bridge Yoga and Kundalini Yoga Association. The overflowing crowd, most of whom had never even seen a saint, who did not speak a word of Hindi, who had never visited India, who were living the epitome of the "Successful Hollywood Life", were mesmerized and enchanted by Pujya Swamiji's chanting and divine words. He led them in divine meditation, taught them about real wealth, real peace and real bliss.

March 31: Louisville, Kentucky, USA
Smt. Jayshree Patel organized a special benefit program for the Youth Education Services Project. The evening began with a sacred installation ceremony for their new, divine Lord Shiva deity. Then, after the special puja, Pujya Swamiji delivered an inspiring and compelling talk on the real meaning of prosperity. He said that both Dwarka and Lanka were cities made of gold - there is no problem in earning money and acquiring wealth. There is no problem with living in a palace. But, how to make your palace Dwarka instead of Lanka? That is the magic He shared….