December 1-- Rishikesh: Pujya Swamiji was the Chief Guest at the Omkaranand School's annual function. He delivered an inspiring speech to the students in which He appreciated the divine vision and dedication of H.H. Swami Omkaranandaji. He also emphasized to the students that, although they were learning English and being schooled in an English Medium way, they must not let English become the "language of their heart." "It can be the language of your classes and the language of your professional life. But your heart must always beat with the sounds of Mother India."

| | |
| --- | --- |
| | |
| Pujya Swamiji entering to the function | Children explain their science projects to Pujya Swamiji -- a young girl explains the intricate workings of the heart. |
December 1-- Parmath Niketan, Rishikesh:
It was the day of the awards function for the Dehradun Road school. The 300 children and the 1500 girls/women in the vocational training program came for a special awards ceremony and Ganga Aarti.


A young, poor girl of Rishikesh shows off a dance she has learned in her school,
sponsored and run by Pujya Swamiji's foundation, India Heritage Research Foundation.
December 14-15: --Kathmandu:
Additionally, In June, 1998 when Pujya Swamiji, Pujya Swami Gurusharananandji Maharaj and Pujya Shri Rameshbhai Oza (Bhaiji) went on yatra to the sacred land of Mansarovar and Mt. Kailash, in Tibet, they saw the desperateness of the local situation. There are no medical facilities for hundreds of kilometers. People frequently die from basic, treatable altitude sickness, due to lack of medical attention. There is no indoor place to stay - all must camp in tents. This complete lack of facilities deters many pilgrims from journeying to this holy land, as well as makes the pilgrimage very difficult for those who are not in the healthiest condition.

Therefore, Pujya Swamiji vowed that -by the grace of God -- He would do something for the local people (who don't even have running water) and for all the pilgrims who travel there.
| | |
| --- | --- |
| | |
| Pujya Swamiji with the Ambassador of China to Nepal. | Pujya Swamiji with the Governor of Tibet. The white shawl is the Chinese way of showing respect and reverence. |

Two and a half years were spent in discussions with the Chinese government, trying to get permission for the project. Finally, last month the permission was officially granted to build an ashram and a hospital in the sacred land. Further, this will be the spring board for other much-needed humanitarian projects in the area, including schools, vocational training programs, etc.

On December 9, the Chinese/Tibetan government officials flew from Lhasa to Kathmandu for the final negotiations with the team Pujya Swamiji had put in charge in Nepal. After 4 days of intense writing and rewriting of plans, proposals and agreements, the final contract was ready for Pujya Swamiji's signature.

On December 14, He flew to Kathmandu where a special banquet was thrown in His honor by the Ambassador from China to Nepal.

Then, on December 15, the official contract was signed, stating (in part), "Under the vision, inspiration and leadership of His Holiness Pujya Swami Chidanand Saraswati (Muniji), India Heritage Research Foundation has agreed to provide the Bureau of Foreign Affairs and Tourism of Ngari Prefecture of Tibet Autonomous Region, Peoples Republic of China, with the funds to build a clinic and Tourist Rest House (ashram) in the holy area of Lake Mansarovar and Mt. Kailash."

The official signing of the contract.
Next to Pujya Swamiji is the Cultural Minister of Nepal.

Further, the contract states that for all future projects in the region (including schools, hospitals, rest houses, sanitation programs), the government of Tibet/China will give first priority to IHRF to sponsor the project.

The project is truly the grace of God and will be a divine gift to the holy land, to all the impoverished Tibetans who live there, and to all the pious pilgrims who cross oceans and continents in order to have a glimpse of the abode of Lord Shiva.

December 16-18: --Allahabad:
Pujya Swamiji went for two days to Allahabad, the site of the Kumbha Mela, to oversee the building and preparation of Parmarth's divine camp.
December 19-25--Bangalore
Pujya Swamiji traveled to Bangalore where Pujya Sant Shri Rameshbhai Oza was delivering Bhagwat Katha. Sponsored by Shri Dhirubhai and Smt. Ushaben Sangani of London, this katha was truly an international, inter-faith experience. Hundreds of devotees came from across the world to partake of the divine wisdom of the katha.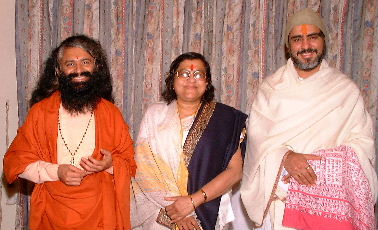 Pujya Swamiji, Pujya Bhaiji and Pujya Goswami Indira Betiji (Jiji)
| | |
| --- | --- |
| Additionally, great leaders of different faiths came to offer their prayers and their blessings. Shri Singh Saheb, Dr. Manjit Singh the acting chief Jathedar of Anandpur Sahib, one of the top leaders of the Sikh religion, and Pujya Maulanna Wahududdin Khan Saheb, one of the most revered Muslim leaders both came during the week. Other revered guests included H.H. Pujya Swami Gurusharananandji Maharaj, Pujya Goswami Indira Betiji, and Shri K.K. Shastriji. | |
| | Pujya Swamiji, Pujya Bhaiji and Shri Singh Saheb -- Dr. Manjit Singh |
Pujya Swamiji discusses the new Mansarovar Project and shows the official Certificate to His Holiness Pujya Swami Gurusharananandji Maharaj (left) and to Shri Singh Saheb, Dr. Manjit Singh (right).

The highlight of the week was the presence of His Holiness Sri Shankaracharyaji Shri Jayendraji Saraswati Maharaj, Kanchi Kaam Koti.
Pujya Swamiji introduces His Holiness Sri Shankaracharyaji Shri Jayendraji Saraswati Maharaj,
Kanchi Kaam Koti on the stage of the katha.

Discussing the glorious Mansarovar Project,
which is also very dear to H.H. Sri Shankaracharyaji Maharaj
| | |
| --- | --- |
| Flown in by private plane from Madras at the humble request of Shri Dhirubhai, H.H. Sri Shankaracharayaji delivered a beautiful lecture on the purnahuti day. He presented a special shawl to Pujya Bhaiji as well as to Shri Dhirubhai and Smt. Ushaben. | |
During the week, Pujya Swamiji went to Sri Sri Ravi Shankarji's ashram where he enchanted the entire group of Art of Living participants with His divine kirtan.
Then, He stayed and sat at length with Sri Sri Ravi Shankarji.
December 29 -31: Parmath Niketan, Rishikesh
The New Year's saw the arrival of numerous guests from India and from abroad. IHRF's president, Dr. Krishan Aggarwal and IHRF's Vice president, Dr. Naval Kant came from USA with members of their families. Additionally, Shri Viresh and Smt. Madhvi Doshi from USA came, as well as numerous other devotees from USA and UK.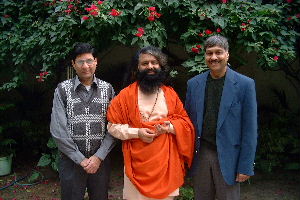 Pujya Swamiji with Dr. Krishan Aggarwal (right), President of IHRF and Dr. Naval Kant (left), Vice President of IHRF

Distribution of new clothes and shawls to the Rishikumars
December 31, 2000: Rishikesh
The dawn of the new year found us lost in divine trance on the holy banks of Mother Ganga as Pujya Swamiji led Ganga Aarti. "Let not only the new year start on the outside," He said. "But, let it be a new year in our hearts and in our lives. Let us offer the past year - with all of its trials and tribulations - at the holy feet of God, and let us begin anew, full of faith, piety and dedication."
As the dawn breaks on a New Year,
let us give thanks for all we hold dear:
Our health, our family, our friends,
the grace of God which never ends.

Let us release our grudges, anger and pains,
for these are nothing but binding chains.

Let us vow to live each day,
in the most pious, God-conscious way.

Let us vow to serve all who are in need,
regardless of race, caste, gender or creed.

Let us vow to keep God in our heart,
to chant His name each day at the start.

Let us vow to lead the world from darkness to light, fromfalsehood to truth, and from wrong to right.

And let us vow to remember that we are all one,
Embracing all, discriminating against none.

May your year be filled with prosperity and peace,
and love and joy which doesn't cease.

May you have success in all you do.
and may God's blessings be showered upon you.

Upcoming Events

January 10-February 9, 2001: Allahabad, UP, India
Maha Kumbha Mela -
please see our special Kumbha site at http://www.kumbha2001.com for details of this glorious occasion. To register, please CLICK HERE or write to parmarth@aol.com

February 15-21, 2001: Rishikesh
International Yoga Festival
Parmarth Niketan is honored to be the host of this world-renowned celebration of the ancient science of yoga. The dates are February 15-21, 2001. Delegates, students, teachers, yogis and philosophers will gather together to learn, to teach, to discuss and to drink of the divine nectar of this sacred wisdom.
Yoga means "union;" it is a union of breath to the body, of the mind to the muscles, and most importantly of the self to the divine. What better place to become "united" than on the sacred banks of Mother Ganga, in a land to which rishis and sages have flocked for millennia?

While all aspects of yoga will be discussed, the focus will be on yogasanas, pranayama, and meditation. Using the body as a medium, the breath becomes still, the mind attains peace and the soul moves closer to liberation.
The program will include demonstrations by international yoga experts, classes in asanas, prayanama, and meditation, lectures by renowned yogis and masters, discussions, and much more.
However, there will be even more. The entire atmosphere will be charged with divine energy, due to so many people participating in sacred yoga.
To register, please CLICK HERE:

March 12-18, 2001: Rishikesh
Shrimad Bhagwat Katha
It is our great honour to invite you all to Parmarth Niketan, Rishikesh (Himalayas), India for a divine and sacred experience.

From March 12-18, 2001, His Holiness Sri Shankaracharya Divyanand Teerth Maharaj will be delivering inspiring and uplifting Bhagwat Katha.
This is one of the rare occasions in which the divine word of the Bhagwat is recited by a Shankaracharyaji. The Bhagwat is holy, sacred and timeless. However, to have it rendered and explained by someone of the highest post in Hinduism is a true chance of a life-time.
The katha will be held on the beautiful, divine premises of Parmarth Niketan, in the holy presence of H.H. Pujya Swami Chidanand Saraswatiji (Muniji). Additionally, this glorious occasion will be graced by the presence of so many other revered saints.
However, there will be more than Katha. It will be a week full of spirituality, of devotion and of prayer. There will be special programs each day, in addition to the Katha, including yagna, puja, aarti, bhajan, kirtan and satsang.
There will also be daily meditation and yoga classes as well as special bhajan programs.
We invite you all to attend this beautiful occasion. So, come, drink of the divine nectar of Mother Ganga; rest in the lap of the sacred Himalayas, have the darshan and satsang of so many pujya sants and imbibe the rich, transformative wisdom of the Bhagavat Katha.
To register, please CLICK HERE: