April 2: -- Detroit
Pujya Swamiji visited Detroit where He spoke at a special Ram Navami program for the Shree Harinam Sankirtan Group, organized by Arvindbhai and Prabhaben Patel, Naginbhai and Lilaben Patel, and Dr. Rajeshbhai and Hemaben Patel.


[Click here for highlights of Pujya Swamiji's lectures on Ram Navami].

Pujya Swamiji blesses the children at the Ram Navami celebration
April 3-4: -- Toronto:

On April 3-4, Pujya Swamiji graced Kitchener-Ontario and Toronto with His darshan and His pravachan.

First, on April 3, He delivered a touching and inspiring lecture at Shree Ram-Dham Hindu Temple of Brahmarishi Mission, on the holy occasion of Ram Navami. He spoke about the meaning of Lord Rama's life as well as about the importance of visiting temples. "Whenever your battery is low and you need to recharge -- come to temple," He said @ Shree Ram-Dham Hindu Temple

He encouraged everyone to let today be the day that Bhagwan Rama takes birth inside of us.

| | |
| --- | --- |
| On April 4, at Vishnu Mandir in Toronto Pujya Swamiji delivered another inspiring pravachan during the Vishnu Temple's Ram Navami Celebration. Pujya Swamiji also shared several heart touching stories. | |
| | Pujya Swamiji With Dr. B. Doobay at the Vishnu Mandir |

After the program was over at the Vishnu Temple, so many devotees still wanted to have more inspiration and guidance so they followed Him home to Shri Narendra Parujanwala's house where He had a two hour Question-Answer Session
April 5-9 - Pittsburgh
Pujya Swamiji was back "home" in Monroeville at the Hindu Jain temple, of which He is the founder and spiritual head. As Pittsburgh is the international headquarters of India Heritage Research Foundation, Pujya Swamiji had various IHRF related meetings, including a Board of Trustees meeting on April 8.

The Board Meeting was very fruitful and filled with reports on the progress of various aspects of IHRF's global humanitarian work. The focus of the meeting was on the momentous project of the Encyclopedia of Hinduism which is progressing rapidly and nearing completion. With new writing and editing units being set up throughout India, this Herculean task is now in its final stage.


| | |
| --- | --- |
| Additionally, on April 8, Pujya Swamiji graced two separate major functions at the temple with His presence. First, in the morning, the Hindus celebrated Ram Navami and Pujya Swamiji gave a beautiful, inspiring lecture on the true meaning of Lord Ram's birth and life. He spoke about the difference between Bhagwan Rama and Ravana. | |
| [Click here for highlights of Pujya Swamiji's lectures on Ram Navami]. | Pujya Swamiji delivers pravachan at the Hindu-Jain Temple in Pittsburgh of which He is the founder and Spiritual Head |
Then, later in the day, Pujya Swamiji was the Guest of Honor at the puja for the 2600th birth celebration of Bhagwan Lord Mahavir.

The Hindu Jain temple is a beautiful example for all the world of how Hindus and Jains (or any different faiths) can worship together in peace and love.


April 10-11 - London
Pujya Swamiji spent April 10-11 in London, giving darshan, satsang and private meeting time to His devotees there. April 10 was dedicated mainly to private meetings and informal satsang/darshan.

| | |
| --- | --- |
| | On April 11, He was a Chief Guest at the launch of the Hindu Youth Festival which will take place from July 26 - August 5 in London. This Youth Festival is being organized with great dedication and commitment by Bhavit Mehta, Saunaka Rsi Das and many other enthusiastic youth of the UK. The festival is already getting so much publicity that Tony Blair, the Prime Minister of England, has expressed a desire to attend it. |
| Pujya Swamiji lights the deepak at the Swaminarayan Mandir in London at the Hindu Youth Festival Launch | |

The launch took place at the Swami Narayan temple in Neasden. Other revered saints graced the event and gave their blessings including Pujya Bhakti Charu Swami and Pujya Atmaswaroop Swami. Additionally, dignitaries such as Shri Manubhai Madhvani, Barry Gardiner MP (Labour) and Phillip Allot MP (Conservatives) also attended and expressed their support for this great event.


Pujya Swamiji said " In pubs and clubs and carnivals, we are always gathered, but here in Roundwood Park [the location of the Festival] the combination of Katha, conference and cultural programmes will not only gather people, but it will bring them together in the name of peace, in the name of Unity, Harmony and Universality….in the Spirit of togetherness- that is the spirit of Indian culture."


Pujya Swamiji congratulated the youth on their efficiency, piety and determination. He said they stood as great examples to the adults!

Additionally, on April 11, Pujya Swamiji gave a beautiful interview for Channel East in London which will air periodically in the days leading up to this festival. Originally, they had wanted Him to come live for their "Breakfast Show" but due to His mauna vrat (vow of silence) in the mornings, He was unable to go. They were so enthusiastic about having His interview, though, that they rescheduled for later in the day.


April 12 - France, Belgium, Rotterdam
On this day, Pujya Swamiji began in London with a visit to the office of Garavi Gujarat, owned, managed, published and edited by Divine Soul Shri Ramniklal Solanki and his family, including Shailesh Solanki and Kalpesh Solanki. Pujya Swamiji blessed and officially "inaugurated" a new, special printing press they had recently purchased. He said that He was sure that through this new printing press, Garavi Gujarat would continue bringing inspiration, upliftment, guidance and the beauty of Indian culture to people all across the world.

He then travelled to Lille, France and from there to Mouscon, Belgium where He gave a brief satsang/darshan at the home of Shri Purushottam Chandan. Pujya Swamiji has a large group of devotees from France/Belgium who not only don't speak Hindi, but who barely speak any English. It is a tribute to the universality of the language of God that they sit, enraptured, listening to His words. In spite of the barrier of words, there is no barrier to the divine transmission. Whenever He is able to make it to that area, these French devotees come, sit at His holy feet, cry tears of joy and vow to come soon to their Himalayan home.

He then travelled to Rotterdam where He met - for only a few short hours before His flight - with H.H. Pujya Swami Veda Bharatiji, who was in Denmark giving meditation classes as well as his darshan and satsang.

April 13-22 - South Africa
On April 12, evening, Pujya Swamiji departed for South Africa, where He and Pujya Sant Shri Rameshbhai Oza graced the official opening of the Gujarati Kendra and the Prana Pratishtha ceremony of the Ekta Mandir with their holy presences.

Pujya Bhaiji delivered a divine, soul-stirring katha in Durban to mark the auspicious occasion of the opening of the temple and Kendra.
Pujya Swamiji and Pujya Bhaiji at the coast of the Indian Ocean in Durban, South Africa
While there, Pujya Swamiji gave inspiring pravachan during the katha, and He also led two separate youth sessions; the evening one had over 800 people and was standing-room-only! Although He had said the session was for youth, the parents were so enthralled by His words during the Katha and on other occasions, that they requested to be present as well.

Some other highlights of the visit included:

April 15: Official opening of the Kendra. This huge function was attended by The National Minister Arts and Culture, Mr Ben Ngubane and The Indian High Commissioner to South Africa, Shri Shiv Shankar Mukerherjee -
left to right: Dr. Prabhakant Patel, Mr Ben Ngubane (The National Minister Arts and Culture, Pujya Bhaiji, Pujya Swamiji, Shri Shiv Shankar Mukherjee (The Indian High Commissioner to South Africa), Mrs. Mukherjee -

April 14 & 17
Visit to the Divine Life Society: Pujya Swamiji and Pujya Bhaiji visited the Divine Life Society in Reservoir Hills where they participated in the beautiful Ganga Aarti which has been started by H.H. Pujya Swami Sahajanandji Maharaj, in the beautiful Ganga Rani swimming pool.

On April 17, Pujya Swamiji returned for the special evening satsang, where He chanted divine Ganga shlokas and mantras, filling the entire atmosphere with a palpable sense of Holy Mother Ganga

Pujya Swamiji and Pujya Bhaiji offer Ganga jal to the Ganga Rani pool with Pujya Swami Sahajanandji Maharaj
April 20 - Johannesburg
Pujya Swamiji flew for the day to Johannesburg where Pujya Sant Shri Morari Bapu was delivering katha. Originally Pujya Swamiji had planned to go to Jo'burg for the last 2-3 days of the katha, but due to several conflicting programs in Durban, He was unable to do. However, the people in Jo'burg requested Him to please come for even just a day. So - by God's divine plan - Pujya Bapu was giving katha in the morning, while Pujya Bhaiji's katha was the evening. So, Pujya Swamiji flew in the morning to Jo'burg, attended Pujya Bapu's katha, took prasad with Pujya Bapu after the katha and then flew immediately back to Durban, in time for Krishna Janmastami of Pujya Bhaiji's katha.

While in Johannesburg at Pujya Bapu's katha, Pujya Swamiji gave a beautiful speech taken from a simple sign He saw in the elevator of the Ekta Mandir. In the mandir elevator was a small sign that read, "In case of fire or other emergency, follow these three steps: remain calm, ring the emergency call bell, wait for assistance."

Pujya Swamiji explained how this was not only true for an emergency in an elevator, but that actually they are the keys to any emergency in life. First, remain calm. Nothing is solved through anxiety, panic or tension. Second, ring the bell. Come to temple and ring the […..]. Call to God and ask for His help. Then, wait for help to come. It will definitely, inevitably come. We must simply have faith. He gave in depth examples and details of each of these three steps.

April 22: -- La Mercy: Divine Life Society:
Pujya Swamiji was the Special Guest at the Yoga Camp for children held at the Divine Life Society's exquisite ashram in La Mercy. Although He could only stay a short while due to the fact that the Katha was finishing that morning, He gave a brief speech about the importance of a Guru. He praised H.H. Swami Sahajanandji Maharaj and told all the children how blessed they are to have such a divine guru.

| | |
| --- | --- |
| Additionally, during the week, Pujya Swamiji and Pujya Bhaiji visited the home of Mahatma Gandhiji in a small village called Phoenix, near Durban. Gandhiji lived here from 1903 to 1905 and it was here that he built the printing press. The original house and press were destroyed during the apartheid riots, but they were reconstructed last year. | |
| | Outside of the Gandhiji settlement |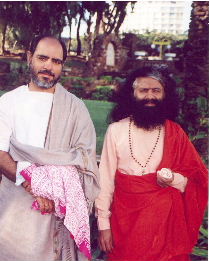 April 22-23:: Maputo, Mozambique
Immediately upon completion of the Katha, Pujya Swamiji and Pujya Bhaiji flew, on private plane, to Mozambique at the fervent request of the local people. Mozambique is an incredible Indian/Hindu community. Most of their ancestors came to Mozambique close to 500 years ago. Living for 500 years in Africa, including under the incredible influence of the Portuguese during their colonization, and yet the vibrancy of Indian culture is as alive as ever!
Additionally, the entire community - including all the children - speak perfect Gujarati! Pujya Swamiji said that He was going to carry the message of Mozambique all over the world. He said that in so many cities and countries you see Indians who are only second or third generation away from Bharat, and yet their children only speak English. Whereas, here, they are 500 years away from living in Gujarat, and yet they have not lost the mother tongue!

This was the first time in over 40 years that saints have graced the land of Mozambique with their presence.

Pujya Swamiji and Pujya Bhaiji gave a beautiful satsang program until 11:30 at night. The Indian High Commissioner His Excellency Avinash Gupta also attended, in addition to several officers from the High Commissioner's office

With High Commissioner, His Excellency Shri Avinash Gupta
Additionally, although there are only about 1500 Hindus in Maputo, over half of them were at the Mandir to have the blessings of Pujya Swamiji and Pujya Bhaiji!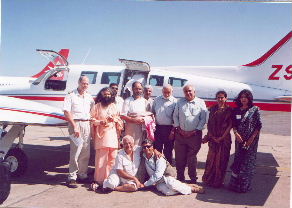 April 23: South Africa
The revered saints left Maputo in the morning and flew to Louis Trichardt, South Africa, where they had prasad at the home of Shri Anilbhai Desai. Then, due to His flight that evening, Pujya Swamiji had to leave. So, He and Pujya Bhaiji parted ways - in body only, not in heart or soul - after a glorious 10 day program together in South Africa.

April 24: Dubai
En route back to India, Pujya Swamiji spent a day in Dubai at the home of Smt. Manjuji and Shri Ashokji Puri.

April 26 - 30: Rishikesh
Back on the holy banks of Mother Ganga!

Upcoming Events
May 10-18: Devi Bhagwat Katha. This glorious Devi Bhagwat Katha, will be delivered for the first-time at Parmarth Niketan by Acharya Shri Shrikant Vyasji.

May 20-28: Ramayana Katha delivered by Pujya Swami Bhagwatanandji

May 30 - June 6: Shrimad Bhagwat Katha delivered by Pujya Shri Shrinathji Shastri of Vrindavan

June 10-20: Ramayan Katha delivered by Pujya Swami Rajeshwaranandji

June 20-30: Pandit Chaitanya Goswamiji will be delivering the Chaitanya Charitamrit.

July 16-22: Special Yoga Intensive Week. Open to beginners and advanced students.

September 15-October 15: Purushottam Mas - A month full of special, divine activities.

Pujya Swamiji will be abroad from the end of June until the end of August.
His abroad itinerary will be posted on this site, and will be updated if any changes are made.
See next month's update for the itinerary.