May 1-2: -- Rishikesh
Inauguration and prana pratishtha ceremony of Sri Kanyakaparameswari, Lord Venkateswar (Tirupathi Balaji), Lord Hanuman and Navagrahas.
Over 2500 years ago Shankaracharya traversed the country of India, from South to North, bridging the gap between these two diverse regions. He traveled on foot, from his home near Madras to the holy lands of Badrinath and Kedarnath high in the Northern Himalayas.
Pujya Swamiji performs the sacred abhishek ceremony and offers prayers on the deities before they are installed in the new temple. He is joined by the saints, priests and leaders who have come from Bangalore for the sacred ceremony.
The Shankaracharya - through this long, arduous pilgrimage - spread the message that there are no borders or boundaries separating people of this glorious land. The people of the North and the people of the South may speak different languages, they may have different styles of religious worship. But, they are, in essence, one.


Thus, it is in this glorious tradition of uniting North with South that Parmarth Niketan Ashram - under the leadership of H.H. Pujya Swami Chidanand Saraswatiji (Muniji) - has built a Southern Style Temple on the banks of Mother Ganga, in the lap of the Himalayas. Here, joined in the name of spirituality, joined in the name of divinity, joined in the name of piety, devotees from the South will worship side by side their brothers and sisters from the North.

This glorious project was sponsored by devotees from South India, under the leadership and inspiration of Shri S. Ramamurthy and Shri Niwas Murthy.

Over 400 devotees from Bangalore and other parts of South India came to celebrate the inauguration of this beautiful mandir.
The occasion was especially blessed as the inauguration took place by the hand of H.H. Pujya Sri Shankarcharyaji Divyanand Teerth Maharaj. Carrying on the tradition established by the first Shankaracharya, today H.H. Sri Shankaracharyaji re-established this link between North and South.
Opening ceremony - led by Pujya Swamiji and His Holiness Sri Shankaracharyaji Divyanand Teertji. Innumerable other revered saints graced the occasion with their presence.
Additionally, the bridge between North and South at Parmarth Niketan will be further strengthened when 30 young children come from South India to join the 100 young rishikumars living at Parmarth Niketan's gurukul.
| | |
| --- | --- |
| There are already 100 children from various parts of North India and Gujarat - many of whom are orphans - in the beautiful gurukul/orphanage. Here they are receiving not only an academic education, but they are also learning the ancient traditions of yoga, meditation and Vedic studies. Now, thirty young children from South India will come to join this gurukul. | |
| | The saints and leaders are joined by Parmarth Niketan's rishikumars |

Children from the South and the North will live and study side by side, immersed in the beautiful culture of India, immersed in studies of the scriptures, and immersed in the tradition of unity.
May 1-14: -- Rishikesh:

Acupressure camp: Dr. Suman Shah, Dr. KC Goel and 18 doctors from Calcutta and Allahabad came and treated 1381 patients who were suffering from a wide variety of ailments.
.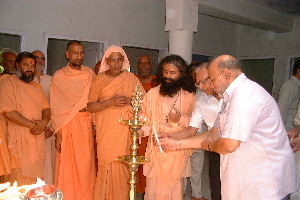 Inauguration of the acupressure camp

May 2 - Rishikesh
We had a beautiful wedding on the holy banks of Mother Ganga in which Thomas (Tejas) Easley and Hema Arya took their vows with the Himalayas as the witness.

"A wedding," Pujya Swamiji said, "marks not only a marriage of bodies. But, rather it marks a marriage of souls. In mathematics one plus one equals two. But in spirituality, one plus one equals one! You are not two now. You are one. One heart, one mind, one soul. But, one plus one can also equal eleven. It means coming together does not merely double who you were when you were alone. Now, you are more than ten times as much!"


May 6 - Delhi
Inauguration of the new Mandir. Parmarth Mandir, Safdarjung Enclave, New Delhi has existed for many, many years as a small temple with a few rooms. As many of you know, it is where Pujya Swami Chidanand Saraswatiji (Muniji) stays when He comes to Delhi.

Now, Parmarth has undertaken the new project of expanding and renovating the ashram and the temple. Work on the temple will begin first.


| | |
| --- | --- |
| On May 6, the mandir bhoomi puja took place by the hands of His Holiness Pujya Sri Shankaracharyaji Divyanand Teerthji Maharaj, His Holiness Mahamandaleshwar Pujya Swami Asanganandji Maharaj, His Holiness Pujya Swami Chidanandji Maharaj (Muniji), and many more revered saints. | |
| | |

In addition, the ex-Chief Minister of New Delhi graced the occasion, as did Shri Ashok Puriji of Dubai, Honorable Bibiji, several MPs and MLAs and other distinguished officials and respected dignitaries.
The first bricks are laid by His Holiness Pujya Sri Shankaracharyaji, Pujya Swami Asanganandji Maharaj,
Pujya Swami Chidanandji Maharaj (Muniji), Shri Ashok Puriji, Respected Bibiji and Shri KL Chughji

See Special Edition update, to be released after a few weeks, with details on this new project and how you can get involved.
May 10 -18 - Rishikesh
Shri Devi Bhagwat Katha. This divine katha, singing the glories of the Mother Goddess was delivered by Acharya Shri Shrikant Vyasji. It was the first time this katha was given at Parmarth Niketan and the entire atmosphere was infused with the love of the Divine Mother.


| | |
| --- | --- |
| | |
| Pujya Swamiji and Pujya Shri Shrikantji offer aarti to Mother Goddess | Pujya Swamiji offers the Shri Devi Bhagwat at the holy feet of prior to the Katha |
| | | | | | |
| --- | --- | --- | --- | --- | --- |
| | | | | | |
| On the special occasion of the wedding anniversary of Shri Shrikant Vyasji and his Dharma Patni (Divine wife; partner on the path of Dharma) Pujya Swamiji offers them blessings and flowers | | | | | |
| | |
| --- | --- |
| Pujya Swamiji and Pujya Swami Pragyananandji took Acharya Shri Shrikantji out for morning walks in the Himalayan jungles, where Pujya Swamiji befriended the wild monkeys and literally had them "eating out of His hand." | |
| | |

View of Rishikesh and Parmarth Niketan from up in the Himalayan jungles
May 14- Rishikesh
Awards distribution for Sanskar Vidya Mandir, the nursery/primary/junior school sponsored by IHRF and located on the premises of Parmarth Niketan. Pujya Swamiji gave blessings and prizes to the top ranking students in each class. "Who will be first place next year?" He asked. Every hand shot up into the air, "I will, I will" they all exclaimed.
| | |
| --- | --- |
| | |
| | Pujya Swamiji with the number one students from each subject and class. |
May 14-20 - Rishikesh
Acupressure camp: a second acupressure camp, led by Dr. KC Jain and his team of 10 trained assistants from Ajmer, Rajasthan came and treated 612 patients.

So, during the month of May, close to 2000 patients were treated - at no charge - using the ancient science of acupressure.


May 25: Haridwar
Pujya Sant Shri Rameshbhai Oza was delivering Bhagwat Katha in the holy city of Haridwar. On the inauguration, opening day, Pujya Swamiji went to offer His blessings and His pravachan.

May 25: Chandigarh
Directly from Haridwar, Pujya Swamiji travelled to Chandigarh for the opening of another special Bhagwat Katha. He was a Chief Guest alongside the Governor and several other dignitaries.


May 27 - Rishikesh

Shri Ashok Desai, the head Chief Justice of Uttranchal came to Parmarth Niketan with his family, on his visit through Haridwar and Rishikesh.

Above: Honorable Justice Shri Ashok Desai and Pujya Swamiji walk, escorted by the Rishikumars, to the holy banks of Mother Ganga.


Left: Pujya Swamiji offers tilak to the Justice and to his family.
May 30 - Rishikesh
Shobha Yatra and inauguration of Shrimad Bhagwat Katha delivered by Pujya Shri Shrinathji Shastri of Vrindavan. At the young age of 82, Pujya Shri Shrinathji Shastri is one of the leading Bhagwat scholars in India. His talks are filled with wisdom, insight and a great depth of devotion and understanding.

The beautiful katha is being sponsored by Divine Soul Shri Shyam Sunder Shah of Calcutta.

Upcoming Events

May 30 - June 6: Shrimad Bhagwat Katha delivered by Pujya Shri Shrinathji Shastri of Vrindavan. At the young age of 82, Pujya Shri Shrinathji Shastri is one of the leading Bhagwat scholars in India. His talks are filled with wisdom, insight and a great depth of devotion and understanding.

June 1: Ganga Dusshera. Birthday of Mother Ganga. This day will be filled with celebration, puja and offerings to the Mother who irrigates not only our land, but also our lives.
June 7: 3:30 am: At this sacred hour, on this special day, our respected Vaidyaji (Ayurvedic expert) will be dispensing a unique, miraculous medicine which has the power - when given at this predetermined auspicious time - to relieve symptoms of asthma and bronchitis even in chronic sufferers.
June 7-15: Ramayan Katha delivered by Pujya Swami Rajeshwaranandji

June 7-9: Pujya Swamiji will be the Chief Guest at the opening/Prana Pratishtha ceremony of the new Radha Krishna Mandir in Auckland, New Zealand.

June 13-20: Dr. Ravi Goel from UK will come and lead a free eye care camp, which will include screening, diagnosis, treatment and free distribution of glasses.
June 20-30: Pandit Chaitanya Goswamiji will be delivering the Chaitanya Charitamrit. This is the first time in Rishikesh that this sacred katha will be delivered

July 16-22: Special Yoga Intensive Week. Open to beginners and advanced students.

September 15-October 15: Purushottam Mas - A month full of special, divine activities. Pandit Shri Madan Mohan Shastriji will be delivering a month-long Bhagwat Katha!

Special, Special Event --June 3.
On June 3, 1952, when a child took birth in India, the universe must have paused in time. The sun must have shined brighter; the wind must have blown with a newfound direction; the flowers must have op ened their petals wider, releasing more and more of their sweet fragrance. For, it was upon this day that H.H. Pujya Swami Chidanand Saraswatiji Maharaj (Muniji) took birth in a human form, sacrificing the eternal, divine bliss of Moksha for the benefit o f humanity. Since the moment He incarnated on the planet, He has forever transformed the lives of millions. His every breath is in service to the world; His every day is a gift to us.
He is the sun that has risen on the world,
bringing us all to life by the mere grandeur of His presence and His blessings.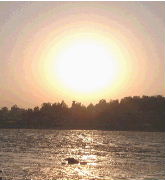 Hands that reach to touch Your feet
You turn them toward work for the world

Eyes that gaze and yearn to simply soak up Your darshan
You turn them toward files filled with ways of serving others

Ears that want only to listen to You sing
You fill them with instructions on how to complete the projects for the poor

Mouths that want only to say, "We love You,"
You give us mantras to chant ceaselessly, endlessly, only God's name.

Minds that want only to think about You
You fill them to overflow with lists and tasks and jobs to benefit others

Hearts filled with nothing other than love for You.
"Let it beat only for God," You say.

Wallets that want to empty themselves into Your hands
You turn them away, accepting nothing.

Bodies which want nothing more than to serve You day and night
You put them to use in the service of the poor, the sick and the children.

Lives that want to lay themselves down at Your holy feet
"Use it in the service of the world," You say.
What is there then for us to give You?

* * * * * * * * * * * * * * * * * * * ** * * * * * * * * ** * * * * * * * * ** * * * * * * * * *
The birds sing a new song, written freshly just for You each morning.

The flowers open their petals at first glimpse of Your darshan,
unveiling their splendor first unto You.

The sun shines through the trees, dancing off the leaves,
landing gently on Your face.

Mother Ganga flows to wash Your feet…closer and closer She moves to where You stand.

The knowledge of the universe is stored in a treasure chest;
the key rests softly in Your hands.

The ocean of wisdom is but a pool for You to swim in.

The world is unfolding as a drama, written by You, for You, known only to You.

What is there then for us to give You?



Param Pujya Swamiji,

PLEASE ACCEPT DEEPEST PRANAMS FROM ALL OF US AROUND THE GLOBE

From the bottom of our hearts, we thank You for taking birth
and blessing us with Your divine presence.

MAY WE BE FOREVER BLESSED WITH THE SHELTER
OF YOUR HOLY FEET