May 1-2-- Melbourne, Australia:
After the divine, glorious conclusion of the Shrimad Bhagwat Katha in Sydney, Pujya Swami Chidanand Saraswatiji (Muniji) and Pujya Sant Shri Rameshbhai Oza (Bhaishri) traveled to Melbourne to bring the light of their darshan, satsang and pravachan to the Melbourne community.
May 14 --Rishikesh :

| | |
| --- | --- |
| | |
| M.M. Pujya Swami Asanganandji, Pujya Swami Pragyananandji, Pujya Swami Chidanandji (Muniji), and Pujya Acharya Shrikant Vyasji , with the gurukul/orphanage students in the background. | Lord Shiva and other divine characters from the katha planting treees. |
While Pujya Acharya Shrikant Vyasji delivered Shiv Puran Katha, we had a special tree plantation ceremony. Special, holy trees including Shri Krishna Vata (Banyan), kalpa vriksha and tulsi were planted in memory of divine, departed souls.
May 18 --Delhi :
This was a day full of historical meetings. In the morning, Pujya Swamiji (Muniji), Pujya Swami Dayanand Saraswatiji, Mananiya Shri Ashokji Singhal, Dr. L.M. Singhviji, Dr. Bhupendra Kumar Modiji, and Smt. Indu Jain met with Shri Murli Manohar Joshiji, Minister for Human Resources and Development.

right to left: Pujya Swamiji, Pujya Swami Dayanandji,
Shri Murli Manohar Joshiji, Smt. Indu Jain
Pujya Swamiji with Dr. L.M. Singhviji,
former High Commisioner to the UK
Then, in the afternoon, the team met with Honorable Shri Atal Bihari Vajpayee, Prime Minister of India. The focus of these meetings was on the upcoming Millennium World Peace Summit, to be convened by the United Nations in New York City from August 28-31.
At this first-of-its-kind event, the world's religious and spiritual leaders will come together in a spirit of peace, harmony, tolerance and embrace. Approximately 100-200 revered spiritual, religious and social leaders will come from India, representing the myriad spiritual traditions of this great country. This is an unprecedented opportunity for India to share its rich spiritual tradition with the world, to clarify and elucidate so many misunderstandings that prevail about Hinduism. It is also an unprecedented opportunity for the world to join together in one voice of peace and universal brotherhood.
Shri Vajpayeeji expressed his support for the program and, at the leaders's request, appointed Dr. Murli Manohar Joshiji as the official Coordinator on behalf of the Indian Government and on behalf of the spiritual/religious/social leaders.
The spiritual leaders will all travel together, in one group from India, perhaps stopping for a spiritual/cultural event en route in London. Upon arrival, they will be met by the United States Government representatives and taken to the Waldorf Astoria Hotel where they will reside thr oughout the function, along with the representatives of all the other religions/traditions.
Following the official UN function, on September 3rd, the Indian constituency is organizing a public gathering in New York in which these revered leaders from Bharat will address a large, international audience. As these leaders will all be present for the World Peace Summit, it is a great opportunity to assemble such a wealth of inspiration and wisdom under one roof, for the benefit of the world.
The leaders humbly requested the Honorable Prime Minister to grace the September 3 function with his presence and his words. The Prime Minister's attendance is not yet confirmed.
May 20 --Rishikesh
Awards Distribution. The Annual Awards Distribution for Academic Excellence took place at Sanskar Vidya Mandir.

| | |
| --- | --- |
| Those students who had performed exceptionally well received special prizes, including books and trophies. Every student who passed the year received special chocolate donated by Smt. Sadhana Ravi Karia of London and the Solanki Family, publishers/editors of the prominent newsweekly Garavi Gujarat. | |
| | |
| | | |
| --- | --- | --- |
| | | Pujya Swamiji then made every student pledge that "agli sal hum first place mein aiyengay [next year I will take first place]" |
May 29: Himalayan Village

Pujya Swamiji traveled over makeshift roads -- gravel, rocks and dirt -- up high into the Himalayas. There, a group of five villages lies, spread out over great distances between them. Amongst these five villages there are no children's schools and no junior high schools or training programs. There are also no medical facilities.

They requested Pujya Swamiji to please build a school there. "But, how will the children travel from their villages to this one school? It is a long way," He said. So, in His everflowing divine compassion and service, He decided we would build five schools, one for each village. Additionally, we are making plans to send our mobile medical ambulance up to these villages for medical camps.
| | | | | | |
| --- | --- | --- | --- | --- | --- |
| | | | | | |
| | | | Pujya Swamiji and the team survey the land | | One of the villages. Tribal peoples living in the Himalayas |
While there, Pujya Swamiji distributed chocolate to the adults and children alike. One old, crippled man, as Pujya Swamiji fed him chocolate said, "I am old; I may not live another year. But, now my life has been fruitful. I have been fed prasad by a great saint who will help my village."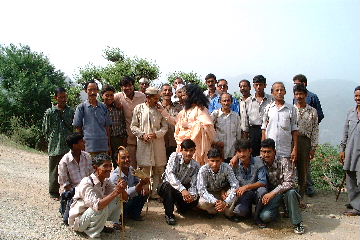 ENCYCLOPEDIA OF HINDUISM UPDATE
The Encyclopedia project is moving forth rapidly and fruitfully, both in USA and in India. With new unit systems, new databases, new coordinators and renewed vigor, we expect to have the writing of the entire manuscript completed by the end of 2000. Then, it will undergo thorough review and editing processes.
Highlights from Columbia:
The Head Office in Columbia is experiencing renewed invigoration and the work is progressing at a heightened pace. The University of South Carolina has generously allotted more graduate students to the office, accelerating the work of database production, pre-processing, duplication checking and updating of the computer systems.
Dr. Rao, the Chief Editor, has recently travelled to several universities, including Emory (Atlanta), Concordia, and University of Georgia and McGill (Toronto, Canada) to meet with top scholars. At each university, the scholars expressed great support for the project and pledged their assistance. These scholars include:

Dr. S Rukmini- Chair Hindu Studies--Concordia,
Dr. Bala Subramniam (Toronto Univ.)
Dr.Ratna Ghosh, Dept of Education (McGill)
Prof. William Power - HOD Religious Studies (U of Georgia)
Prof. Shanta Ratnanayaka, Buddhist Studies (U of Georgia)
Recent visiting scholars at the Columbia Office include Prof Purosottam Bilimoria and Dr. Renuka Sharma.
Additionally, Dr. Ratna Lahiri, a post-doctoral research scholar from Delhi University, India is helping to expedite the progress of the work in Columbia and is a great asset to the EH project.
Recently, Dr. Lahiri returned to India and helped to establish writing/editing centers in Calcutta, Allahabad and Delhi. In Calcutta, Dr. Rimi Chatterjee, a scholar with a degree in Publishing/substance editing from Oxford, and with excellent contacts in Calcutta, has been appointed to coordinate the writing on Bengal and the North Eastern zone.
Progress in India:
Bharatiya Vidya Bhavan, the prestigious publishing house of Bombay, India, has nearly completed their wonderful seva of substance editing. Many articles have been completed and dispatched to the Columbia office and the remaining ones will be completed shortly.
These substance edited articles by BVB may be used to compile a "prototype" of the Encyclopedia.
Shri Brahmaswarup Varma, director of IHRF Administration and Coordinator for the C-2000 project has relocated temporarily to India, from his office in Pittsburgh, in order to have more hands-on access to the scholars, editors and administration in India. He has been working indefatigably to set up new unit coordinator systems and to revive previous ones.
Upcoming Events
June 3: Pujya Swami Chidanandji (Muniji), Pujya Swami Dayanandji, and Dr. L.M. Singhviji will meet to discuss details of the upcoming United Nations World Peace Summit.
June 11: Ganga Dusshera. The holy day is a celebration of the birthday of our Mother Ganga. Pujya Sant Rameshbhai Oza, H.H. Pujya Swami Gurusharananandji Maharaj and Pujya Sant Kishore Vyas will come to grace us all with their darshan and their blessings, and at the same time to have the darshan and the blessings of Ganga Maiya.
June 25-26: Saints from all across India will come to Rishikesh to discuss the upcoming United Nations World Peace Summit. It is of critical importance that the spiritual leaders of India present a unified voice of peace and love. For this reason, the preliminary meeting is being held in order to discuss which points should be raised and how they should be raised.

Special, Special Event --June 3.
On June 3, 1952, when a child took birth in India, the universe must have paused in time. The sun must have shined brighter; the wind must have blown with a newfound direction; the flowers must have op ened their petals wider, releasing more and more of their sweet fragrance. For, it was upon this day that H.H. Pujya Swami Chidanand Saraswatiji Maharaj (Muniji) took birth in a human form, sacrificing the eternal, divine bliss of Moksha for the benefit o f humanity. Since the moment He incarnated on the planet, He has forever transformed the lives of millions. His every breath is in service to the world; His every day is a gift to us.
He is the sun that has risen on the world, bringing us all to life by the mere grandeur of His presence and His blessings.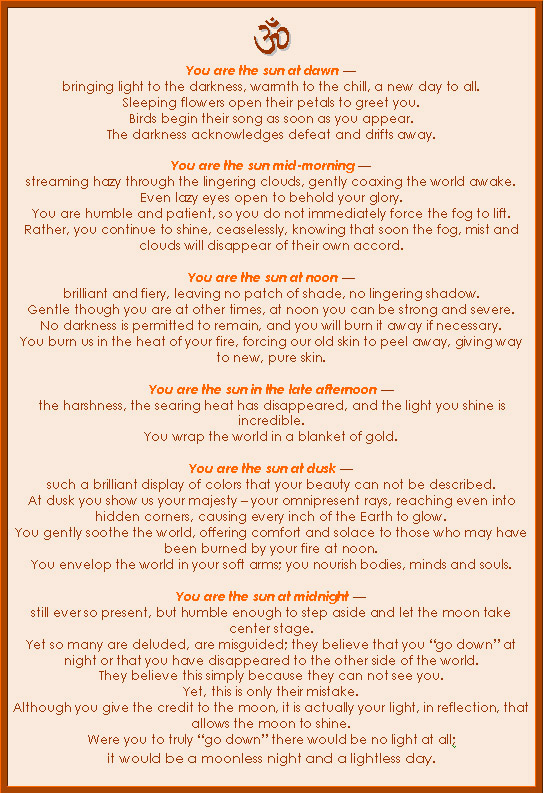 PLEASE ACCEPT DEEPEST PRANAMS FROM ALL OF
US AROUND THE GLOBE

From the bottom of our hearts, we thank You for taking birth
and blessing us with your divine presence.

MAY WE BE FOREVER BLESSED WITH THE SHELTER
OF YOUR HOLY FEET