Bijender Singh (lovingly known as Bijou), Pujya Swamiji's driver and one of the dear sevaks at Parmarth got married on the 19 May. He told Pujya Swamiji, "I am coming to you to have the first blessings after my marriage." So, on the 20 May, Bijou and his new wife Meena came to Parmarth for Aarti and a special blessing from Pujya Swamiji.


May 30 - June 1 -- Leh, Ladakh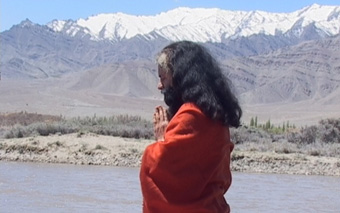 The Sindhu Darshan festival was held on the banks of the holy Sindhu River in Leh, Ladakh. This huge function was graced by the presence of numerous revered spiritual leaders and eminent government ministers. The spiritual leaders included H.H. Sri Shankaracharyaji Swami Jayendra Saraswatiji, Kanchi Kaam Koti, H.H. Sri Shankaracharyaji Swami Divyanand Teerthji, Bhanpura Peeth, H.H. Swami Avdeshanandji, H.H. Swami Chinmayanandji, H.H. Swami Chidanand Saraswatiji (Pujya Muniji), H.H. Sant Rameshbhai Oza (Pujya Bhaishri), H.H. Roopchandra Muniji, the Archibishop of Delhi, the Archibishop of Agra, and many other leaders of different traditions.
Government Ministers (including Shri L.K. Advaniji) and revered saints participate in the Sindhu Darshan festival
Government officials included Shri L.K. Advani, the Deputy Prime Minister of India, Shri Jagmohanji, Central Minister for Tourism and Culture, Smt. Bhavanaben Chikhalia, State Minister for Tourism and Culture and many others. Pujya Swamiji offered Shri L.K. Advaniji a special Rama-Nama shawl as blessings on behalf of all the revered saints.
| | | |
| --- | --- | --- |
| | Pujya Swamiji offers a sacred shawl as blessings to Shri Advaniji, Deputy Prime Minister of India | |
On May 31, Dr. B.K. Modiji hosted a special gathering of the religious leaders under the banner of the Indian Council of Religious Leaders. It was an inspiring program to hear the speeches of so many different religious leaders. Everyone spoke about the importance of peace and unity and how that can be achieved.

Pujya Swamiji sits with H.H. Sri Shankaracharyaji Jayendra Sarawatiji, Kanchi Kaam Koti, H.H. Sri Shankaracharyaji Divyanand Teerthji, Bhanpura Peeth and other revered saints
On June 1, the main function was held on the banks of the Sindhu River. It was a glorious function of speeches, local dances and other programs.
A highlight of the weekend was the special Aarti which Pujya Swamiji arranged. Shri Advaniji said that they have been coming for so many years to this holy river and yet no one has ever performed the holy aarti of the Sindhu. Pujya Swamiji had arranged for 11 large aartis and 25 smaller aartis to be brought from Rishikesh and a divine aarti was held on the 31st evening as the sun set over the Sindhu River.
H.H. Swami Avdeshanandji was giving Katha during the time of the Festival, and on the 1 June evening, all of the revered saints went to grace the katha with their presence.

Also, while in Leh, Pujya Swamiji, Pujya Bhaishri and Pujya Roopchandra Muniji went to see Shanti Stoop, a sacred local Buddhist site from which there is a beautiful view of all of Leh and the Divine snow capped Himalayas.

June 4 -- Rishikesh
SHEENA SINGHAL DAY
In honor of a divine young girl, Sheena Singhal, of Bloomfield Michigan a large school in Rishikesh is being sponsored. Dr. Yatindraji and Smt. Saritaji Singhal sponsor one of IHRF's largest projects. At the Sheena Singhal school on Dehradun Road in Rishikesh, there are over 400 children coming for the morning, academic classes and over 1500 girls coming in the afternoons for vocational training, handicrafts, music, dance, yoga, karate and adult education.

On June 4 a special program was held in dear Sheena's memory, where special sweets were distributed and a special prayer was held in her memory.