Read Pujya Swamiji's Divine Messages on:

Upcoming Events:
May 12: Inauguration of Orphanage Complex built by
Project Hope - India Heritage Research Foundation
for Tsunami orphans
See next month's update for details!
(see www.projecthope-tsunami.org for full details
of the tsunami relief work)

DVDs of the Kailash-Mansarovar yatra 2006 now available -
Click here
Pujya Swamiji listed as one of the 10 main Saints of Uttrakhand, with a view of inter-faith harmony and unity.
India's largest newspaper, Dainik Jagran, did a large feature on the 10 most influential, divine saints of the State of Uttrakhand, which includes the sacred religious areas of Haridwar, Rishikesh and the Himalayas. Pujya Swamiji was number 2 on this list which also included such revered saints as Pujya Swami Satyamitranandji (Bharat Mata Mandir), Pujya Dr. Pranav Pandya (Shantikunj - Gayatri Parivar), Pujya Swami Avdeshanandji, Pujya Swami Chidanandaji (Divine Life Society) and Pujya Brahmachari Brahmachariji (Jai Ram Ashram), and others.
March 1-7 - Rishikesh
International Yoga Festival. The annual International Yoga Festival, organized jointly by the Uttarakhand Tourism and Parmarth Niketan Ashram in Rishikesh, took place from March 1- 7. See special Yoga Festival update for details. Click here
March 18 - 28 - Rishikesh
Silent Meditation Retreat A beautiful silent meditation retreat was organized here for 10 days with approximately 80 people from around the world by Open Dharma. Pujya Swamiji always says, "Meditation is the best medication for all agitations!"
The participants in front of Parmarth's yoga/meditation hall
Pujya Swamiji with the organizers and leaders of the retreat
March 22 - Dehradun
Inauguration of wing at Jolly Grant Hospital for Cleft Palate. Pujya Swamiji was the Chief Guest at the opening of the new wing at the Himalayan Institute, Jolly Grant Hospital in Dehradun.
The theme of the day was "The Day of 1500 smiles" for all the children whose smiles have been returned to them. Jolly Grant hospital was founded by H.H. Pujya Swami Rama and is the best hospital in this region with the most up to date techniques and technology.

Pujya Swamiji officially opens the unit with Shri Vijay Dhasmanaji, the head of the hospital
Pujya Swamiji, Shri Vijay Dhasmanaji and the doctors light the lamp;
Shri Dhasmanaji gives Pujya Swamiji a shawl as a sign of respect
March 23 - Rishikesh
Pujya Mahant Ram Singhji Maharaj, head of the Nirmal Ashram of Rishikesh came to Parmarth to meet with Pujya Swamiji and to take part in the Ganga Aarti on the day before the official opening of the new Nirmal Ashram Eye Hospital.
Pujya Mahant Ram Singhji and Pujya Mahant Jodhsinghji come for Ganga Aarti
Pujya Swamiji welcomes them both with tilak
The hospital has been built and sponsored by Mission for Vision, a divine program working to eliminate blindness in India and Africa, by setting up top quality, state of the art hospitals and clinics for poor people who otherwise would not receive any care.
Shri Chandru Kewalramani and his divine brothers, Shri Sureshji and Shri Vijayji are main sponsors of the hospital, and Chandruji is one of the pillars of strength for Mission for Vision.
In less than two years this divine hospital has come to fruition. Pujya Swamiji was part of the ground breaking ceremony in May 2005, (see www.parmarth.org/updates/may2005 for details) and now it was beautiful to see the way this amazing project has come up in such a short time.
On the eve of the opening, Pujya Mahant Ram Singhji Maharaj, Pujya Mahant Jodhsinghji, the divine Kewalramani family and others came to perform the sacred yagna and aarti, and to pray to Mother Goddess Ganga to bless the hospital with the ability to serve, serve and serve the needy population.
Pujya Swamiji, the Pujya Saints from Nirmal Ashram, Shri Chandru Kewalramani, the Kewalramani family and the doctors perform the sacred yagna on the banks of Ganga
Divine Ganga Aarti;
Pujya Swamiji gives Pujya Mahant Ram Singhji a shawl and Mansarovar jal
On March 24 Pujya Swamiji attended the opening of the hospital at Nirmal Ashram, Rishikesh
Pujya Swamiji with Pujya Mahant Ramsinghji.
Shri Chandru Kewalramani with the revered saints
Shri Chandruji brings the doctors of Mission for Vision for Ganga Aarti




Pujya Swamiji, Shri Chandruji and the doctors/ organizers of Mission for Vision perform Yagna and Aarti

March -- Rishikesh
The divine young children from Miri Piri Academy, the school for children of the Sikh Dharma started by Pujya Siri Singh Sahib, Yogi Bhajanji, came to Parmarth during their school holidays. It is beautiful to see their devotion and piety, and also to listen to them chant and sing. They love to come to Parmarth and to have question-answer satsang sessions with Pujya Swamiji



March 24-26 - Rishikesh
A group of high school students from California, USA came to Parmarth for a few days during their Spring Break. Having groups of High School and College/University students here is a common occurrence, particularly during Spring and Winter vacations. The students enjoy yoga and meditation classes as well as question-answer time with Pujya Swamiji. They always participate in the divine Ganga Aarti ceremony and that, inevitably, is a highlight of their stay. They also play sports with the rishikumars and take part in other adventure/sightseeing activities, including river rafting and visiting local temples.
A group from the American School of Paris also came in early April.
To organize a trip for students, please email parmarth@parmarth.org
Left: students from USA; right: students from American School of Paris

Sanskaras at Parmarth -
Mundan Ceremonies, Weddings, Ash Immersion

Every year so many families come to Parmarth, to the holy banks of Mother Ganga, to perform the sacred rites of passage including the mundan (first headshaving), the sacred thread ceremony, weddings as well as the final rites of ash immersion. All pujas are performed according to traditional Vedic rituals, by trained priests, acharyas and the divine rishikumars of the Parmarth Gurukul. See the Sanskaras page of our website to learn about the meanings and significance of the different rites of passage.
Please email to parmarth@parmarth.org to find out about coming to perform any of the sacred sanskaras here
Mundan Ceremonies - First Headshaving:
Click here to learn about the mundan (first heading shaving) ceremony..

March 30 - Mundan for Prem
The Dawada / Majithia family came from London to perform two sacred pujas, marking two sacred rites of passage -- the ash immersion of beloved Dipen Majithia and the mundan of young Prem. It was a mark of the ever changing, ever flowing and inevitable cycle of life. A mark of celebration for an infant child, and a tragic passing....
Trusha Dawada with her father, Himatbhai, sisters Reshma and Nita, daughters Jhanvi and Jia, nieces Janki and Gangotri, and nephew Rishi performs the puja for the mundan ceremony of her son Prem.

Dear Prem's head is shaved and he gets a bath in Ganga!!

After the shaving, Pujya Swamiji blesses Prem and feeds him prasad (bananas) with the rest of the family looking on.
April 29 - Mundan for Pranav Arora
Another beautiful mundan ceremony also took place for dear Pranav Arora.
Weddings - Sacred Marriage
Click here to see details of significance of weddings and the way they are performed at Parmarth
March 31 -- Wedding - Bhavini and Pradeep
Bhavini Kalan of South Africa, a frequent resident and Vinyasa yoga teacher at Parmarth married her long time love Pradeep, here on the holy banks of Mother Ganga. It was a beautiful, divine wedding, presided over by the rishikumars and Bhavini's family at Parmarth. Of course the reception took place later back in South Africa but the official vidhis (rites) were performed here in this sacred land with the blessings of Mother Ganga and Pujya Swamiji.
Bhavini and Pradeep seek Ma Ganga's blessings before the wedding
The wedding itself! Flower garlands and pheras

After the Divine Wedding the newlyweds performed Ganga Yagna and Aarti
Clockwise from top: Performing Yagna after the wedding; Pujya Swamiji gives them a special Radha-Krishna murti to remind them of the purity and divinity which must flow in the marriage; Pujya Swamiji blesses them both




The blissful Newlyweds! May the blessings of God, Mother Ganga and Pujya Swamiji always be with them.

April 18 -- Sacred Wedding of Maya and Manish Patel
The Divine Wedding of Maya and Manish Patel also took place and they came to seek Pujya Swamiji's blessings on the banks of Mother Ganga
Pujya Swamiji blesses Maya with a sacred mala of Rudraksh
Sacred Ash Immersion -- Final Rites Ceremony
Click here to see the significance of the Ash Immersion puja and the way it is performed at Parmarth by so, so many families from across the world each year.
Sacred Ash Immersion Ceremonies were also performed by several families from around the world, including the final rites for Divine Soul Dipen Majithia of London
April 1 -- Ash Immersion - Dipen Majithia
Divine Soul Dipen Majithia, beloved husband of Neeta and father to Rishi, Janki and Gangotri, left his body to reside at the holy feet of God. His entire family came from London for the sacred puja here.
Dipen's 3 children -- Rishi, Janki and Gangotri -- perform the puja ceremony
Walking through Ganga to a beautiful place on the edge of rocks, Rishi carries the ashes to immerse in Mother Ganga; Pujya Swamiji leads the family in prayer following the immersion ceremony.
April 2-3 -- Surat, Gujarat
Pujya Swamiji was the Chief Guest at the prana pratishtha (deity installation) ceremony for the Hanuman murti at the Hanuman temple in Surat, on the auspicious occasion of Hanuman Jayanti! Click here to read about the meaning of the prana pratishtha ceremony. Click here to read about the message of Hanumanji's life. The function was organized and sponsored by Shri Dineshbhai Pacheriwal of Surat. In the evening there was a beautiful satsang with Pujya Swamiji's lecture on the message of Shri Hanumanji.
April 5 -- Chennai
Pujya Swamiji traveled to South India for a function at the home of NEPC chairman Shri Ravi Khemkaji. The function was also graced by the presence of Pujya Swami Babaji from Palampur, Himachal Pradesh.
(left): The Khemka family here at Parmarth;
(right) Pujya Swamiji and Pujya Swami Babaji at the Khemka residence in Chennai
On the trip to Chennai Pujya Swamiji also met with the Honorable Governor of Tamil Nadu, His Excellency Shri Surjit Singh Barnalaji and discussed the work in the tsunami affected areas (see www.projecthope-tsunami.org) including the inauguration of the orphanage we have built which was inaugurated on 12th May -- details coming in the May update next month.
Pujya Swamiji with His Excellency Shri S.S. Barnaji, Hon. Governor of Tamil Nadu
Coincidentally, the beautiful Mataji of the Neem Karoli Baba ashram in Rishikesh was staying at Raj Bhavan at the same time. Mataji has been in silence for many decades but speaks volumes through her loving eyes and smile. She and Pujya Swamiji know each other from many many years ago, and had a beautiful reunion.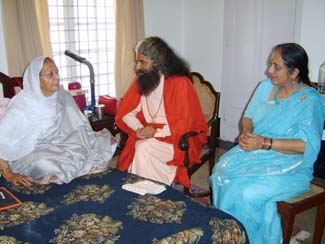 Pujya Swamiji with Mataji and Smt. Gariyalji, the personal secretary to His Excellency (who was also the relief commissioner during the time of tsunami relief work)
April 7 -- Delhi
Pujya Swamiji was a main speaker at the Himalayan Parivar function in Delhi regarding Himalayan Ecology and Conservation, with Shri Indresh Kumarji and other members of the Himalayan Parivar (family).
Pujya Swamiji and Shri Indresh Kumarji
April 21 - 22 -- Rishikesh
A two day free Medical Urology Camp was organized by Dr. Anshuman Kapoor, an expert and renowned urological surgeon from Chandigarh. Over 160 patients were seen for diagnostics, laboratory investigation and ultrasound. The next camp will include sophisticated surgeries. If you are a doctor (including dentist, ophthalmologist, etc.) and would like to come and offer your services in the form of a free medical camp for local people of the Himalayas, please contact Dr. Alka Patel at alka@parmarth.org

Clockwise from top: Inaugural Lamp is lit on the banks of Mother Ganga; Dr. Anshuman Kapoor examines patients with state-of-the-art equipment at Parmarth's charitable medical hospital
(left): Pujya Swamiji blesses Dr. Kapoor; (right): Lamp is lit at the hospital
April 18 -- Rishikesh
Ganga Saree Manorath -- More than 500 divine women (the Shakti) of the Maheshwari Parivar from 24 states across India came to Parmarth Niketan as part of their large Sanskar Shibir. They tied 500 sarees together to come all the way across Mother Ganga. It was an amazing, divine, beautiful sight to behold Mother Ganga draped in so many sarees.
It was truly a mela (festival) at the aarti with all the women singing and dancing.
The divine mela -- Gangaji gets wrapped in sarees at the holy feet of Lord Shiva

The 500 ladies of the Maheshwari Parivar line the banks of Mother Ganga to bring all 500 sarees (tied together) across Ganga and onto the Ma Gangaji murti at the Parmarth Ghat
Clockwise from top: Divine Darshan of the huge mela; Release of CD; everyone sings along to divine kirtan
April 15 - 24 -- Meditation Camp
A beautiful Vedic meditation camp was held here, with over 50 people coming from across the world. The camp was led by Tom Knowles.

Tom Knowles and retreat participants take part in Ganga Aarti
Pujya Swamiji blesses Tom with a special shawl
*Thanks to Jeff Kober for photographs

April 28-30 -- Rishikesh
A group of divine devotees came from Thailand to Parmarth Niketan. Led by their spiritual teacher, Thay-Ma a regular visitor to Parmarth and devotee of Pujya Swamiji, they spent several beautiful days in Rishikesh, performing Ganga aarti, yagna and spending time with the rishikumars.
Pujya Swamiji with Thay-Ma and her group; He blesses her with a Shiv Nataraj murti
The group distributes fruit and sweets from Thailand to the rishikumars
June 3 -
Pujya Swamiji's 55th Jayanti (birth anniversary)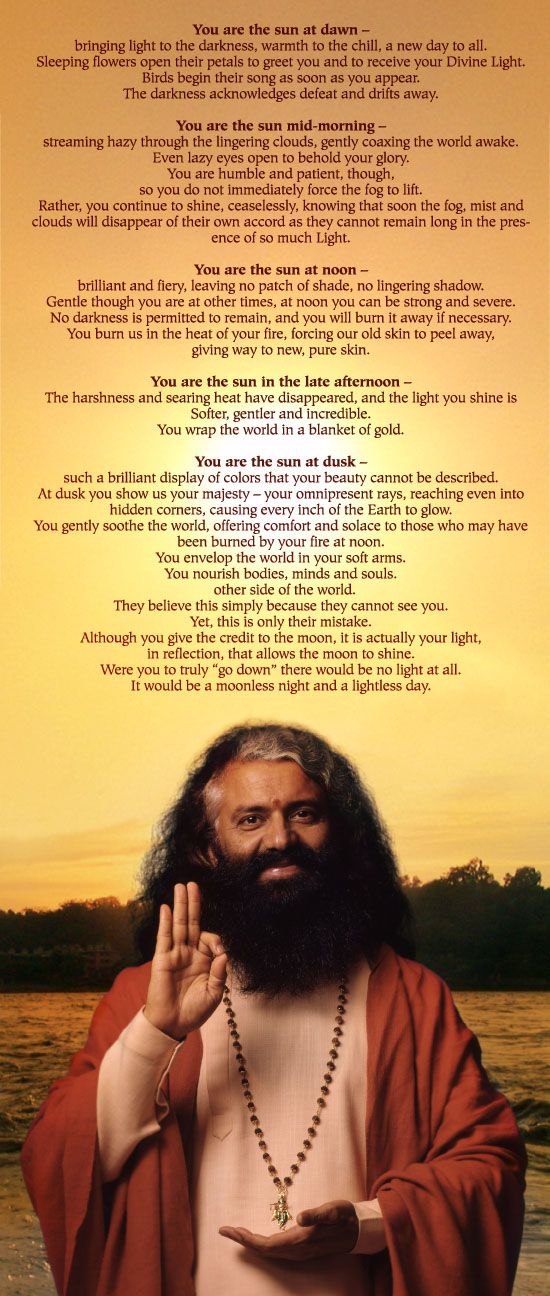 Thank you for being the Light in our lives.
For links to all previous updates and Divine Messages, click
here
.
Contact Information
Phone: (0135) 2440088, 2440077, 2434301
Fax: (0135) 2440066
From abroad, dial: + (91-135) instead of (0135)
Email:
parmarth@parmarth.org